Adaptas Solutions

TM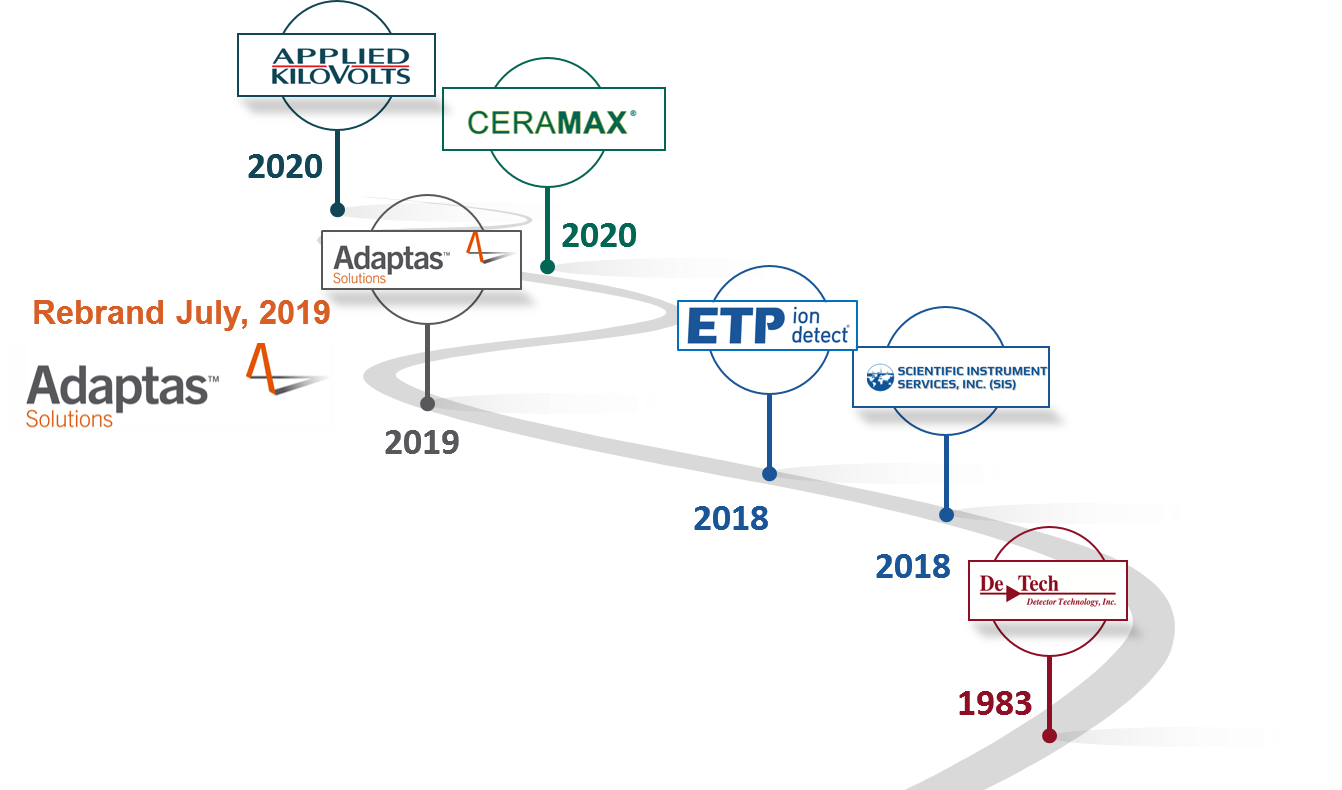 In July 2019, ETP Ion Detect joined forces with Detector Technology, Inc. and Scientific Instrument Services, Inc. to become Adaptas SolutionsTM - A specialist OEM of 'sample-to-answer solutions' for the Laboratory, Analytical and Clinical Market. Engineered through acquisition to more efficiently address the customer's needs for Mass Spectrometry, Liquid Handling and Automation Platforms.
Adaptas' ETP Ion Detect is the worlds leading brand for channel and discrete dynode electron multipliers for mass spectrometry. A worldwide technical and distribution network supports the company's global presence throughout The Americas, Europe, Japan, Asia Pacific, India, China and The Middle East. Adaptas' ETP Ion Detect primary R&D manufacturing division is located in Sydney, Australia.
Our Strengths
ETP Ion Detect work with mass spectrometry companies to discover, design, develop, test and manufacture the best ion detection systems available for a specific instrument.
ETP Ion Detects' core capabilities include
Simulation tools-modelling ions, electrons, mechanical & electrical systems
Design of customised solutions for any MS to optimise system analytical requirements
Rapid prototyping for customised solutions in partnership with customer
Advanced proprietary manufacturing systems for product production and testing.
Our Team
ETP Ion Detect has a staff of 90 people. The organisation comprises Scientists, Engineers, Business, Fabrication Specialists, Quality and Production Personnel. ETP is able to offer complete concept, design, development and testing service for electron multipliers and electron optic products.
Facilities
ETP Electron Multipliers facilities include:
| | |
| --- | --- |
| Asset | Standard |
| Production Cleanroom | Class ISO 7 |
| Production Assembly Encloses | Class ISO 5 |
| Pre-Production Rooms | Class ISO 9 |
All manufacturing is performed ISO 9001 accreditation.
Major Products
ETP Ion Detect major product range includes:
OEM exclusive Quad, Ion Trap and Sector Electron Multipliers
OEM exclusive TOF and MagneTOF Electron Multipliers
OEM TOF ion/electron Optical Grids
Restricted range of Instrument Specific End User Electron Multipliers
Awards
In 2007, ETP Electron Multipliers won an R&D100 award for its MagneTOF™ detector for Time of Flight (TOF) instruments. MagneTOF™ detectors provide TOF instrumentation with the capabilities to achieve their designed analysis capabilities enabling faster response and high resolution.